Tabla is Replaced by "Santoor" in new TAJ MAHAL Tea Advertising
At the core of "Megh Santoor" are its 31 strings and handles, thoughtfully organized to evoke the mesmerizing melodies of the timeless rain Raga, "Megh Malhar." Esteemed Indian classical artist, percussionist, and composer, Taufiq Qureshi, has contributed his mastery to ensure the Raga captures the essence of the Indian monsoon perfectly.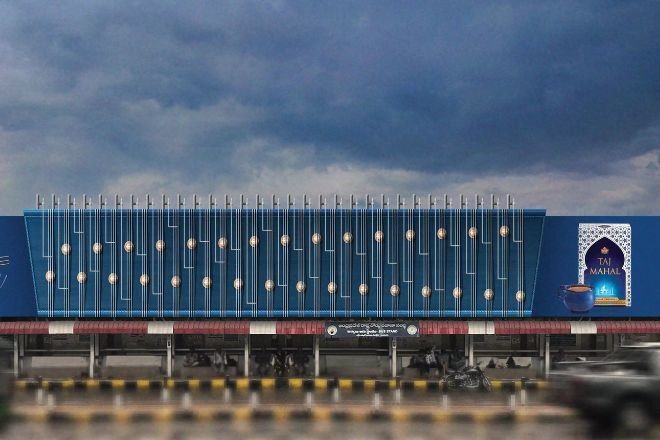 India's renowned tea brand, Taj Mahal Tea, has brought its musical essence outdoors by unveiling a massive installation OOH Hoarding that transforms rain into music. Located near Vijayawada junction railway station, this pioneering billboard uses raindrops to play the Santoor, crafting the melodious symphony of Raag Megh Malhar, the monsoon Raga. Named 'Megh Santoor,' this unique out-of-home installation spans an impressive 2250 square feet.
At its core, 'Megh Santoor' features 31 strings and handles meticulously configured to produce the enchanting sounds of the ancient rain Raga, "Megh Malhar." The project benefitted from the expertise of renowned Indian classical musician, percussionist, and composer, Taufiq Qureshi, ensuring the Raga captures the essence of the Indian monsoon authentically.
The creation of this groundbreaking music-producing billboard was a six-month endeavor involving a team of over 50 professionals, setting a never-before-seen musical interaction with rain. Ogilvy was the creative agency behind the campaign, executed by Rapport Outdoor Advertising.
Commenting on this remarkable achievement, Shiva Krishnamurthy, Head of Beverages and Foods at Hindustan Unilever, expressed excitement about 'Megh Santoor' being recognized by The Guinness Book of World Records as the world's largest environmentally interactive billboard. He emphasized their commitment to Hindustani classical music, Vijayawada's people, and the joy of tea in the rain, inviting everyone to experience this blend of art and technology.
You can Watch The Ads Here:
What's Your Reaction?