Exploring the future of interactive digital ads in shopping malls
Advertising in shopping malls can helps you boost your marketing campaign in this festive season. As the consumers are in your target location you can easily attract them into making them your buyers.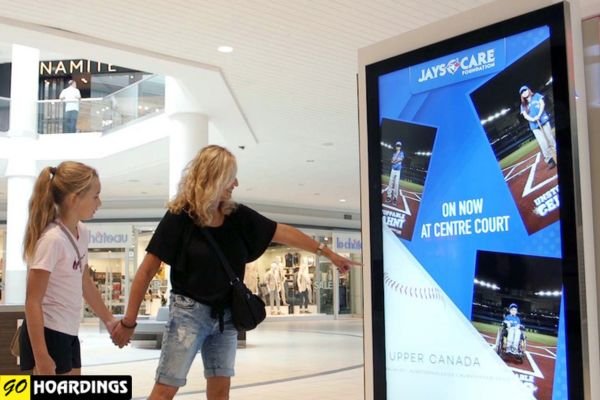 Interactive digital ads
Interactive digital ads have revolutionized the way businesses advertise their products and services. With the advancements in technology, traditional advertising methods have evolved to offer more engaging and personalized experiences for consumers.
One of the most effective platforms for interactive digital ads is shopping malls, where advertisers can directly target their audience and create memorable brand experiences.
Interactive digital ads in shopping malls provide a unique opportunity for advertisers to connect with their target market in a more meaningful way.
By utilizing interactive elements such as touch screens, gesture control, augmented reality, and virtual reality, businesses can create immersive experiences that capture the attention of shoppers and leave a lasting impression.
These ads allow consumers to actively engage with the content and tailor their experience based on their preferences. Whether it's trying on virtual clothing, exploring virtual showrooms, or playing interactive games, these ads empower shoppers to interact with the brand on a deeper level, creating a sense of personalization and connection.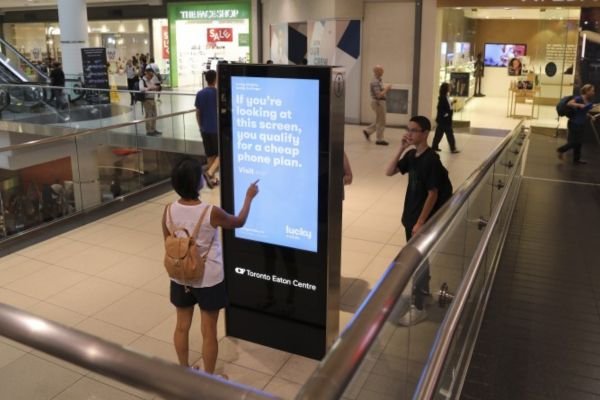 Future of advertising
The future of advertising lies in the seamless integration of technology into our everyday lives. As consumers become more accustomed to interactive digital experiences, traditional advertising methods will need to adapt to stay relevant.
One of the key trends shaping the future of advertising is the use of data analytics and artificial intelligence. By collecting and analyzing data from consumer interactions with these ads, businesses can gain valuable insights into consumer behavior and preferences.
This data can then be used to create personalized and targeted advertising campaigns that resonate with individuals on a deeper level.
Additionally, the rise of mobile technology has opened up new avenues for advertising. With the majority of consumers now owning smartphones, businesses can leverage location-based advertising to reach consumers in real time.
By delivering targeted ads to consumers when they are near a shopping center, businesses can increase the chances of converting leads into sales.
Furthermore, the integration of virtual reality (VR) and augmented reality (AR) into advertising will continue to shape the future of the industry.
VR and AR technology have the potential to transform traditional advertising formats by creating fully immersive experiences for consumers. Imagine being able to virtually try on clothes, test drive a car, or explore a hotel room before making a purchase.
Overall, the future of advertising is centered around creating personalized, immersive, and meaningful experiences for consumers.
By embracing new technologies and leveraging data-driven insights, businesses can stay ahead of the curve and effectively engage their target audience.
Technology in advertising
Technology is rapidly transforming the advertising industry, providing marketers with innovative tools to create engaging and impactful campaigns. In the realm of interactive digital advertising, technology plays a vital role in facilitating seamless experiences for both advertisers and consumers.
One of the key technologies that power interactive digital ads is touchscreen displays. These displays allow users to interact with content through taps, swipes, and gestures, providing a tactile and intuitive interface. Touch screens unleash a whole new level of creativity, enabling advertisers to design interactive ads that capture attention and encourage user engagement.
Augmented reality (AR) is another technology that has gained significant traction in the advertising world. AR overlays digital elements in the real world, creating immersive and interactive experiences.
Advertisers can utilize AR to bring their products to life, allowing consumers to visualize how they would fit into their daily lives. For example, a furniture retailer could use AR to let customers virtually place their products in their own homes before making a purchase.
Virtual reality (VR) is a technology that takes immersion to the next level. By placing consumers in a completely virtual environment, VR enables advertisers to create unforgettable experiences.
Whether it's exploring virtual showrooms, taking part in virtual events, or going on virtual adventures, VR ads transport consumers to a different world and leave a lasting impression.
Motion sensing technology is also becoming increasingly popular in interactive digital ads. By tracking the movements of users, motion-sensing technology allows for unique and engaging interactions.
Advertisers can create games, puzzles, or interactive displays that respond to the user's gestures, providing an exciting and immersive experience.
In the world of advertising, mall media provides a highly effective platform for reaching a captive audience. Shopping centers attract a diverse range of consumers who are actively seeking products and services, making it an ideal environment for advertisers to connect with their target market.
During festive seasons, mall media advertising takes on a whole new level of importance. Festive seasons bring in an increased footfall and a heightened sense of excitement, making it the perfect opportunity for businesses to capitalize on the festive spirit and create memorable brand experiences.
Advertisers can leverage the festive atmosphere to engage shoppers through interactive digital ads that incorporate holiday-themed content and special offers.
In addition to the festive seasons, mall media advertising throughout the year offers several benefits. Firstly, it allows businesses to showcase their products and services to a large number of potential customers in a single location. This concentrated exposure increases brand visibility and can lead to higher conversions.
Furthermore, mall media advertising enables advertisers to target specific demographics. Shopping centers can provide valuable demographic data, such as the average age, gender, and income level of visitors. This information can be used to tailor advertising campaigns and ensure they reach the right audience.
Another advantage of mall media advertising is the ability to create a multisensory experience. Shopping centers offer a wealth of advertising opportunities, from large-scale digital billboards to interactive displays. Advertisers can utilize visuals, audio, and even scents to captivate consumers and create a memorable brand presence.
Overall, mall media advertising is a powerful tool for advertisers, marketing managers, and business owners. By harnessing the potential of interactive digital ads and leveraging technology, businesses can create meaningful connections with their target audience and drive sales in the ever-evolving world of advertising.
What's Your Reaction?